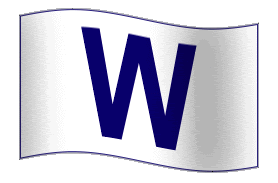 The Nationals posted the worst record in baseball last year (59-102).
They're on pace to do the same in 2009, and may even end up with fewer wins than a season ago.
It's no wonder DC fans don't show up to the ballpark.
If the Cubs were this bad I wouldn't spend the money, either.
Love the defensive gems from Fontenot and Hoffpauir!
Micah's grab seems to be the front runner, but Little Babe Ruth's flip to Theriot in the first was crucial.
DEFENSE MATTERS!
Zambrano has seen better days on the mound, but the guy's so good his lack of command didn't matter, especially against the lowly Nats.
I'll give Z credit for keeping his cool after a long first inning too.
Huge relief to see Aramis poke one out to his pull field.
You can tell he's lacked confidence in his swing after recovering from the dislocated shoulder.
Maybe the home run sets Aramis free at the plate? The sooner that happens the better for everyone in the lineup.
The Cubs (45-43) are in second place.
W: Zambrano (6-4) L: Stammen (2-5) S: Gregg (17)
Big Z needed 113 pitches to last five innings.
Chicago went 1-for-9 with RISP.
Heilman (6), Marshall (5) and Marmol (20) each earned a hold.