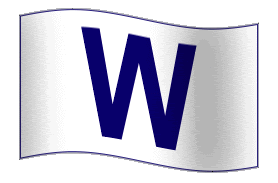 The Washington series couldn't have gone much better.
Aramis and Soriano both found their power strokes, the defense was superb, and of course, the pitching was sufficient.
Additionally, Chicago makes up a little ground against St. Louis, builds a little separation from Milwaukee and improves the road record to 20-25.
Taking care of business against the bottom feeders is so important, and they don't get any worse than the Nats.
You can't justify sitting Fox in favor of Bradley any longer. It's simpler than the numbers: Fox is hitting, M.B. is not.
Meanwhile, Piniella says he'll personally work with Bradley on his swing. Wouldn't we all love to hear that skull session!
Loved seeing Hart slug bunt the ball back up the middle for an RBI! Why pitchers don't try this more often, I don't know?
It's about time the lineup starting catching fire all at once, which never occurred during the first half.
Obviously, the main cog is Alfonso, and we're all aware how much he changes the lineup when hot.
Having batted from the sixth spot in nine of his last 11 games he's gone 13-for-39. Why move him in the order?
Since the break Fukudome is 6-for-12, Fontenot 6-for-11, Lee 6-for-17, and Soriano 4-for-10.
Fox and Hoffpauir combined to go 6-for-10 Sunday and with Aramis' comeback the Cubs' lineup is finally kicking!
Three games at Philly will be tough. The defending champs have won eight straight and Monday's starter, Ted Lilly, was manhandled by Philadelphia in two starts last season (0-2, 6.55 ERA).
That said, however, watching Cubs baseball is fun again!
The Cubs (47-43) are in second place.
W: Hart (1-1) L: Mock (0-3)
Chicago is 7-3 in its last 10 road games.
The Cubs are 10-5 on Sundays, its highest winning percentage of any day of the week.
Jake Fox has five home runs in his last 16 games.