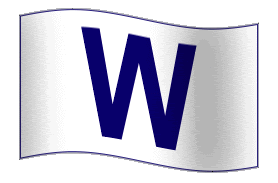 I'm glad we can all laugh at Aaron Harang's three-run tater.
The guy is probably the worst hitting pitcher in the NL, and there's little doubt Wells won't live it down for awhile!
The Cubs could use a good laugh, however, with the Cards adding Matt Holliday earlier in the afternoon.
St. Louis is looking scary good with its newest additions of Julio Lugo and Holliday. Not to mention, Troy Glaus is nearing a return to the lineup as well.
Those moves now return the pressure back on the Cubs, and this begs the question whether Chicago needs to add another bat before July 31.
On paper the Cubs are solid enough to win the division without adding a hired gun, but paper number aren't always reality, of course.
However, they're good signs Chicago is at last beginning to jell offensively.
In five of its last eight games they've managed double digit hits, and since July 1 the Cubs are 8-0 when collecting 10 or more hits, including Friday 14-hit affair, and that's without big Geo in the lineup, too.
Fukudome is adjusting well to the leadoff spot batting .333 in 12 games, including a seven-game hitting streak.
Ryan Theriot has driven in seven runs in his last eight games and Derek Lee continues to swing a hot bat having hit safely in 40 of his last 46 games.
The best news, however, is Aramis looking like his old self again. The guy is so clutch with men on base and the protection he gives Lee is unmatched from anyone else in the lineup.
Doesn't mean it couldn't hurt for the Cubs to add some more punch from the left side, but I'm not hanging my head if they choose not to pull the trigger on a deadline deal.
Randy Wells has just been terrific! He's managed six wins in his last seven starts thanks in large part to his 59 strikeouts vs. 19 walks!
I wouldn't take any chances with Lilly's sore throwing shoulder. Put him on the DL and let Dempster's return fill the void.
As long as Ted's injury isn't serious I don't see a need to trade for a starter, either.
It's always nice to take the first game of a series. And with the Reds sliding, now is a prime opportunity to string a few W's together.
The Cubs (49-45) are in second place.
W: Wells (6-4) L: Harang (5-11)
Chicago is 28-18 at home.
The Cubs are 46-14 when plating more than three runs.
Carlos Marmol is second in franchise history with 68 career holds (Farnsworth, 73).
Theriot is one RBI short of his season total of 38 from a year ago.