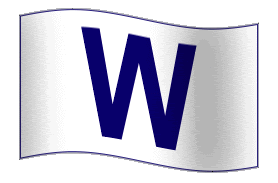 Aramis is showing just how much one player can make a difference.
In 14 games since his return from the DL he's 15-for-54 (.277) with three home runs and nine RBI, and doesn't appear to be playing at full health yet, either.
Best of all, Ramirez's hot-stick is relieving pressure off Derek Lee and Milton Bradley.
With Aramis back in the order the Cubs 3-4-5 hitters are a combined 16-for-32 (.500) with four home runs, 10 runs scored and 13 RBI in the last three games. Sweet!
And look what Soriano is doing from the sixth hole. He's strung together an eight-game hitting streak going 14-for-32 (.437) with a couple of jacks.
It seems the Cubs are finally living up to its potential offensively, thanks in large part to Aramis' return.
And as many of us suspected, such a powerful lineup can have the Cubs in first place by the end of the month!
Ted Lilly to the DL hurts big-time. The projected three weeks off is too much time for Hendry not to seek pitching help before the trade deadline.
Doesn't mean he should deal for a top-of-the-line starter, but should maybe grab a four or five guy if possible.
If Lilly's sore shoulder sidelines him longer than expected, I'd hate to see the rotation shorthanded come September.
The Cubs (50-45) are in second place.
W: Hart (2-1) L: Cueto (8-7) S: Gregg (20)
Chicago is 9-3 in its last 12 games, and 15-8 since June 29.
The Cubs have not been five over .500 since May 19 (21-16).
Milton Bradley has drawn a hefty 16 walks in July.
Chicago is 9-0 this month when collecting 10 or more hits.