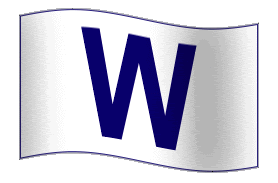 Game winning hits don't come any sweeter than Soriano's walk-off slam!
Thanks to JustGreatTickets.com I took the excitement in from the Field Box level this evening.
The offense wasn't big time, but the home runs were spectacular.
El Caballo's blast landed over the batter's eye, D-Lee's shot ended up on Waveland and Soriano's slam reached Sosa territory!
It's rather amazing you see that kind of power three times in one night at Wrigley!
Alfonso is red hot this month. He's rebounded from a .198 average in June to a .342 clip in July, including his current 10-game hitting streak.
I'd take Fonsi in the six-hole for the remainder of the season.
Major props to the bullpen's six scoreless innings, especially Stevens' 1.2 innings of work. The kid looks like he can hold his own in the majors.
Loved Lou's call for a suicide squeeze in the ninth. Fontenot was the right guy at the plate, but to see him whiff at the bunt attempt was borderline unbelievable.
Who didn't enjoy LaTroy Hawkins getting tossed? The post game comments from the former Cubs illustrates why he's a player the Wrigley faithful love to hate!
"Well, I thought it was a strike and I told him, 'Come on, I need that pitch. You don't need any help.' And he said, 'Knock it off.' And I waved him off and he threw me out of the game. Maybe he was having a bad day. I thought he had determined who he wanted to win the game anyway."
Typical self-pitying Hawkins.
Don't look now, but that quick turnaround the Cubs needed post All Star break is in full force!
They're 11-3 in the last 14 games, moved seven games above .500 for the first time since May 16, and used this current five-game winning streak to move into first place.
Can we finally say this team is playing up to its potential?
The Cubs (52-45) are in first place.
W: Samardzija (1-1) L: Sampson: (4-2)
Chicago has not attained sole possession of first place since April 9.
In the last five games the Cubs have scored in its final at-bat.
The last Cubs reliever to record a win was Kevin Gregg on July 3 against Milwaukee.
Chicago is 7-4 overall against Houston this season

.