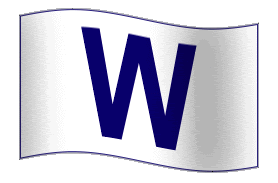 I got a real kick visiting Tampa's airport on my way back to Chicago.
The facility is littered with support for the Rays.
Heading into Gate A6 was a digital board listing congratulations to all the Rays' All Stars.
The locals wear Rays hats and t-shirts, even the airport staff wore pins and buttons to decorate their uniforms.
That's the difference ownership makes. Three years ago the then Devil Rays were invisible in baseball, let alone their home bay area.
Now under new ownership, they're defending AL Champs and the toast of the town. I think it's terrific!
Heck of a turn around for the Cubs in July.
They wrap up the month 18-9 heading into the Dog Days of August.
On paper it appears to be a tough month ahead.
The Cubs are scheduled to play 29 games, the most of any month this season.
And of those 29 games, 13 are against teams above .500 with the Cubs playing 16 of them on the road.
Playing away from Wrigley hasn't been peachy thus far, Chicago sporting a 22-28 road record.
Yet, there's hope with the Cubs having won eight of its last 12 road contests, including Saturday night's crazy win against the Marlins.
You hate seeing Zambrano tweak his back swinging for the fences. But, I think it's counter productive to tell the big guy to tone it down at the dish.
Any doubt D-Lee is the team MVP?
For certain, he stole the honors in July hitting nine home runs with 27 RBI.
Terrible outing for Gregg, and Saturday night showed why he led the NL in blown saves last season.
That said, Gregg is 21-25 in save opportunities. Maybe his meltdown had something to do with his return to Miami?