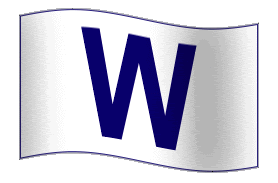 It's hard to find confidence in Carlos Marmol.
I can't ever remember saying that before this season, but it's been the same old story with Carlos all year.
It seems the guy is a sure bet to walk the first batter he faces, as he did again Monday night.
It's like Marmol is afraid to throw strikes. And if it's not a fear of being hit, then what's the problem?
Alex Gonzalez homers in the eight off a hanging slider from Randy Wells. Marmol comes right back in the ninth and challenges Gonzalez with slider after hanging slider. It just doesn't make any sense, which is why Lou was blowing a gasket in the dugout.
To have both Marmol and Kevin Gregg scuffling at the same time is worrisome. You get the feeling Angel Guzman can fill in nicely for one of the two relievers, but to have him cover both the setup and closer's role can't be expected.
Randy Wells continues to be spectacular having won four in a row and eight of his last nine starts. He's also 4-1 away from Wrigley.
Big time relief to see Ramirez back in the starting lineup. We know the guy isn't fully healthy, but just being in the lineup makes a huge difference in the offense.
Nice to see Fontenot get a big time hit. He entered the game batting .139 in his last 11 games.
Three years ago I was campaigning in favor of Aaron Harang for the Cy Young Award (Harang finished fourth).
He finished the 2006 season at 16-11, led the majors in games started, complete games and batters faced.
His 216 strikeouts led the NL and complemented his 3.76 ERA. Yet, the man didn't receive a single first place vote for the Cy Young. It was astonishing.
The following season Harang finished 16-6 with a 3.73 ERA and the Reds signed him to a 4-year, $36.5 million dollar deal.
Harang responded by reporting to Spring Training in the best shape of his career and poised to make another run as a top hurler in the NL.
But the once dominate starter made a turn for the worse finishing the season 6-17. His ERA ballooned to 4.78 and he failed to reach 200 innings pitched for the first time in three years.
This season hasn't gone any smoother, either. After Monday's loss he's 5-13 with a 4.52 ERA. Somebody tell me, what's happened to Aaron Harang?
The Cubs (56-48) are in first place.
W: Wells (8-4) L: Harang (5-13) S: Marmol (4)
The Cardinals were idle Monday night.
Chicago is 53-15 when scoring three or more runs.
Wells is 8-0 when receiving four or more runs of support.