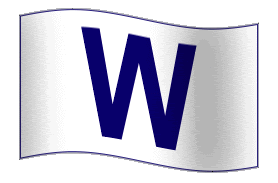 Tom Gorzelanny could have passed for Ted Lilly Tuesday night.
The lefty threw much better than I expected him too.

Probably didn't hurt that he was throwing for his home town team in front of an unusual home town crowd.
Of course, I assume Gorzelanny would've been motivated pitching in Death Valley instead of throwing another inning for the Pirates.
Amazing how effective a hurler's stuff can be knowing there's actually a chance to win the game.
Larry Rothschild gets full credit for what he's done with all the Cubs' young hurlers this season.
Chicago has pitched seven rookies but still rank third in the majors in runs allowed.
Koyie Hill deserves a pat on the back, too. I rarely see the pitchers wave him off, and most of the time Hill's pitch selection is right anyway.
Tuesday night marked Hill's 25-consecutive game behind the plate, tying him with Damon Berryhill's streak with the Cubs set in 1989.
Getting Soto back Friday is a huge plus, but the job Hill has done filling-in is impressive.
Lots of chatter in the blogosphere about removing Gregg from the closer's role. I think it's unnecessary and overblown.
Closing is more about mentality than stuff. For certain, Marmol and Guzman have the talent, but I question whether either has the tough mental makeup for such a role.
Heaven help us if Gregg blows a third consecutive save opportunity, which I don't anticipate.
Disappointing reports on BJ Ryan coming out of Triple-A Iowa. From Carrie Muskat's story on Cubs.com…
B.J. Ryan walked two in one inning in Triple-A Iowa's 3-2 loss against New Orleans on Monday, but there's been no improvement in command or velocity. In four games, Ryan has walked five and struck out four over 5 2/3 innings.
Sean Marshall has just been terrific out of the pen. Of his 34 inherited runners just six have scored.
Even better, the lanky left-hander didn't allow a single run in all of July (11 innings in relief).
Chicago hasn't swept six straight games from the Reds since 2001, and they can do just that Wednesday afternoon.
The Cubs (57-48) are tied with St. Louis for first place.
W: Gorzelanny (4-1) L: Cueto (8-9)
Chicago has the best mark in the NL since the All Star break at 14-5.
D-Lee smashed his 150 career home run with the Cubs.
Chicago is 28-25 all time at Great American Ballpark.