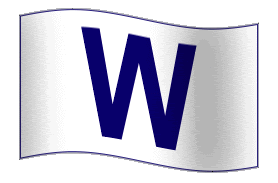 It's all about the runs, man.
Chicago is 55-15 when scoring three or more runs, the best record in all of baseball.
That's a huge complement to the starting pitching as well.
Big outing from Dempster. Wasn't spectacular, but he didn't need to be.
With the bullpen running on fumes, the Cubs just needed Demps to eat up some innings.
We saw the bad Jason Marquis Saturday. The Marquis, who fades in the second half, walks too many batters and thus, made him tradable this offseason.
Not a fan of Fukudome batting in the 5-hole, despite his two hits and two RBI.
I'd leave him the leadoff spot where he's batting a solid .325 and sporting a .439 OBP.
Can't blame Lou for tinkering with the order after scoring just two runs Friday night, but just when you think the Cubs have a leadoff man, he bats fifth in the order. Eh?
Aramis leaving the game is scary. He's so important to this lineup, the one that only needs three runs to win, that the Cubs could lose the division if he ends up on the DL.
Strong close by Gregg. Should help his confidence after his tough stretch last week.
It's frustrating watching Aaron Miles play second base. Poor range, poor arm…our poor eyeballs!
The Cubs (58-50) are in second place.
W: Dempster (6-5) L: Marquis (12-8) S: Gregg (22)
Cubs are 4-4 on the 10-game road trip.
During the trip D-Lee is 10-for-33 with three home runs and seven RBI.
Chicago and Colorado are tied for the most quality starts this season (68).
The loss ends Colorado's 15-game winning streak against the NL Central.