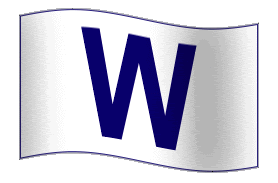 Milton Bradley batting from the 2-hole isn't as crazy as you might think.
In fact, it's a page Piniella is borrowing from Tony La Russa.
As White Sox manager in 1983 La Russa moved a struggling Carlton Fisk into the two-slot.
Fisk, not surprisingly, balked at the move initially. He was, after all, a power hitter use to hitting from the three, four and five hole.
The move, however, worked in Fisk's favor. After spending the early part of the season batting below .200, the catcher rebounded to hit .289 with 26 home runs, a career high at the time.
With Fisk once again thriving at the plate the White Sox went on to win the division by 20 games.
The similarities are there with Bradley, too.
Since moving up in the order during August he's batting .333, including 13 hits in his last nine games, and his overall average has improved 20 points (.263) over his first half mark of .243.
Of course it's not the ideal situation for Bradley, but neither was Fisk batting from the two-hole, either.
Obviously, you don't pay a power hitter $30 millions to draw walks behind the leadoff man, but if it gives Chicago its best chance to win the division, why not?