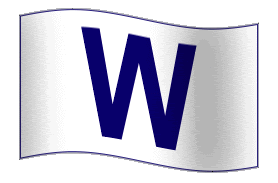 Lou says he's playing his veterans down the stretch.
The skipper believing this gives his club its best chance at postseason baseball.
What doesn't seem to matter is that over the course of five months these same veteran players have also dug themselves an eight-game hole in the division.
Some lineup, eh?
So is it too much to ask for Jeff Baker, a guy who posted a career-high 10-game hitting streak during August and has hit safely in 10 of his last 11 games, to start every game at second base?
What about starting little Sam Fuld in left, too? He's batting .283 and providing highlight-reel catches in place of Soriano's defensive ineptitude.
And do I really have to make a case for starting Jake Fox?
Fox is hitting .308 with eight doubles, nine home runs and 32 RBI in his last 45 games, and Lou's telling us there's not a place for this guy in his lineup?
If it's all about winning, and not about the big-money contracts of Soriano, Bradley and Fukudome, then play the guys who can catch the Cardinals in September.
But we know reality says otherwise…money talks and bench players watch.