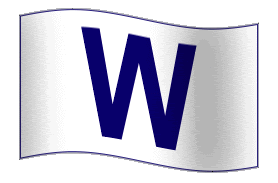 Jeff Baker smells blood.
With the Cubs' second base position wide open next year, Baker is making the most of his starting opportunities.
Since joining Chicago July 2nd, he's batting .330 with 13 RBI, 10 doubles, three home runs and a triple.
His batting average also ranks in the top five among players traded with their current team.
It's a small sample size, 45 games with the Cubs, but he's now the front runner to become the Opening Day starter next year.
The lone in-house competition for the job is Andres Blanco, who's fielding is superior to Baker, but his bat hasn't kept up.
I don't particularly favor one over the other, but either guy is an upgrade against the likes of Mike Fontenot and Bobby Scales.
Meanwhile, the Cubs' starting pitching has been so good during its past five games that they've allowed just three earned runs!
During this stretch the starters have issued a meek seven walks vs. 33 punchouts and pushed its quality start total to 81, good for second best in the majors.
With the amount of offensive talent on this club it's shameful the Cubs are just two games above .500 with such brilliant starting pitching.
All of which has made this season more than frustrating, to say the least.