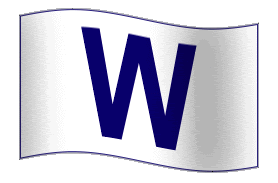 Just how good have the Cubs been against Pittsburgh?
In the last 31 games between the two clubs Chicago has posted a 25-6 record, good for a sparkling .806 winning percentage.
And in 10 series dating back to September of 2007 the Cubs are 9-1 against the Buccos, which is now the club's best 30-game mark against the Peg Legs in Chicago's franchise history.
The Cubs' run, of course, falls well short of an actual remarkable feat provided this is the Pirates we're talking about: a team mired in a 17-year losing streak.
If only the Cubs could finish the season playing the remainder of its games against the Pirates they might still have a chance at the Wild Card.
As it is, however, this is just another meaningless series during the month of September.
The eight hits leading off the game was pretty cool, though. That's one hit for each game back the Cubs are in the Wild Card standings.
Despite Bradley tweaking his leg, he's still on pace to eclipse his projected No. of games played, which was around 120. Currently, he's appeared in 117 games…his actual production in those games, however, is another story for another time.