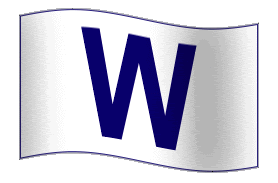 We've seen guys like Tyler Colvin before.
Lots of hype, lots of money, and always lots of potential.

Colvin is that can't-miss  prospect. A guy who has the right look, has the right numbers and, has his shot to make the big club.
Too often, unfortunately, we soon discover how so many of the can't-miss guys simply can't-play big league ball.

I'm not saying Tyler won't make it, but before we crown Colvin the Cubs' starting right fielder next season, try naming a single Cubs' No.1  draft pick to make an impact since they took Mark Prior in 2001.
Can't do it…I know. That's the point.
Obviously, you hope Colvin cracks the mold, but you can't bank on it, either.
In fact, you almost have to expect Colvin to fail.
Don't get me wrong, I'm pulling for the kid, but if history tells us anything, it's that Colvin will still be in the minor leagues come Opening Day 2010.
The best thing in the Colvin's favor is the 2010 free-agent list: none of which are particularly interesting to man right field for Chicago next season or beyond.

Bobby Abreu (36)

Jermaine Dye (36) – $12MM mutual option with a $1MM buyout

Brian Giles (39)

Vladimir Guerrero (34)

Eric Hinske (32)

Geoff Jenkins (35) – $7.5MM mutual option with a $1.25MM buyout

Gabe Kapler (34)

Austin Kearns (30) – $10MM club option with a $1MM buyout

Jason Michaels (34)

Xavier Nady (31)

Randy Winn (36)
Whether it's Colvin or someone else playing right field, it can't be worse than Milton Bradley.
Another sorry act we've seen before, too.