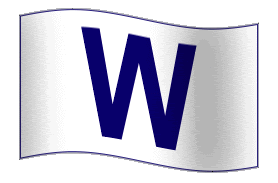 The Cardinals Magic Number is down to 2.
Meaning soon the Red Birds will be celebrating the NL Central Division title.
Meanwhile, the Cubs are already gone fishin', but at least they're not playing like it.
Milton Bradley gets canned and the club immediately goes 3-0.
How much is coincidence? Nada.
That's good for the Cubs, but another body blow against Hendry's job security.
Serves Hendry best to wrap up the MB situation ASAP, like he says he will.
Forget about testing the trade market with this guy.
He's poison, and the longer he's in the Cubs' blood the more deadly he'll become.
My gut says Texas, San Diego and Oakland are the most likely places he'll land in a possible trade.
But I won't be surprised if teams just wait for the Cubs to cut him first.
It's good to see Reed Johnson back in uniform. Good clubhouse guy, too.
Given the current circumstances, that alone may get him one more year on the North Side.