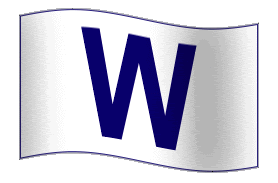 No doubt Zambrano wanted to best Tim Lincecum Friday night.
He did it, too: complete game two-hitter. Impressive stuff for sure.
I'd like to ask Zambrano why he can't crank it up like that more often.
The thing is, I think he could if he wanted to, but he's just too lazy to care, and that's a shame.
For the one millionth time…if Zambrano could only get his head right…?
On the other hand, if the Giants had any resemblance of an offense Tim Lincecum would be a 25-game winner.
***
On September 17th, 1998 the Giants trailed the Cubs by five games for the NL Wild Card.
San Fran went 8-2 in the season's final 10 games to force the one-game playoff at Wrigley, which the Cubs won of course.
I remember the wide smile on The Rat's face after clubbing a two-run homer in the fifth giving the Cubs a 2-0 lead.
Although many forget the Giants nearly rallied from five runs down to tie the game in the ninth.
Tapani, Mulholland, and Beck, however, limited the damage to three runs preserving a 5-3 win–no Bartman, black cat or Billy Goat necessary.