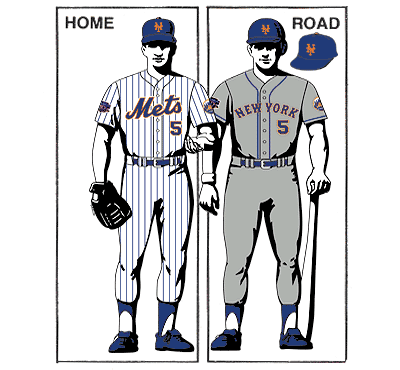 The Mets have one of the best uniforms in all of baseball…too bad they never wear them.
The addition of 'black' in 1998 as the team's official third color, accompanying the Royal Blue & Orange, looked bad then…and still looks bad now.
I've said before…the Mets are way over-thinking its uniform changes.
Going back to the all-blue cap with the interlocking orange "NY" puts them back in the league's upper-crust of uniforms. As it stands, however, they're near rock bottom.
I've posted some of my favorite digs below…in no particular order. And the Cubs, of course, are a given!
Yankees – A classic, regardless of the payroll.
Giants – The off-whites are stylish and a perfect complement to SBC Park.
Tigers – Another classic. Old Englsh style 'D' is awesome.
Seattle – The Mariners, meaning Griffey Jr., made the color teal cool.
Dodgers – Simple. Clean. Classic.
Boston – Sticking with tradition…I like that.
St. Louis – Birds on the bat remains a staple.
Milwaukee – Original look. Modern. Fits nicely with Miller Park, too.
White Sox – This is how you style black.
Cincinnati – Ditched the black four years ago. Now back near the top.