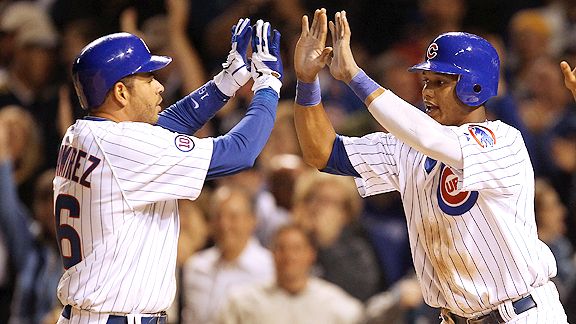 Remember the number 700. It's likely the minimum number of runs scored the Cubs need to reach to make the postseason.
In 2011 Chicago managed 654 runs scored, good for eighth place in the 16 team NL, but only fourth best in their own division.
The world champion Cardinals, meanwhile, led the NL with 762 runs scored–108 more runs than Chicago.
Playoff contenders Arizona (No.4), Milwaukee (No.5) & Philadelphia (No.7) all finished in the top 10 spots.
Although the Cubs did as well, there's a sizable gap in this department compared to the Phillies who finished one spot higher.
Philadelphia scored 59 more runs than the Cubs, which averages out to nearly a half run more per game than Chicago–that's a lot!
How the departures of run producers Aramis Ramirez & Carlos Pena effects the Cubs is still to be determined. It leaves us guessing whether Chicago will even match its runs scored total from 2011, let alone topping the 700 plateau.
But of course, runs scored isn't everything!
Cincinnati finished No.2 in the NL in runs scored. Colorado was No.3 and the Mets No.6. None finished higher than 17.0 games back in its division.
Which brings us to runs allowed…where the Reds, Rockies, Mets & Cubs all finished near the top (or bottom, depending how you view it) of the league standings.
Similar to runs scored, the benchmark for playoff contenders is to allow fewer than 700 runs, which, not surprisingly, all four NL playoff teams achieved.
St. Louis sneaked under with 692. The Diamondbacks allowed 662, Milwaukee 638 and the Phillies led the league with stingy 529 runs allowed!
Chicago on the other hand allowed 756 runs–227 more than Philadelphia and more than a half run more per game than the Cubs scored themselves.
The addition of a second Wild Card will seemingly add flex around the 700-marker concerning runs scored & allowed, at least in terms of defining playoff contenders.
But until the Cubs significantly reverse its run totals, both for and against, a post season appearance isn't in the making.