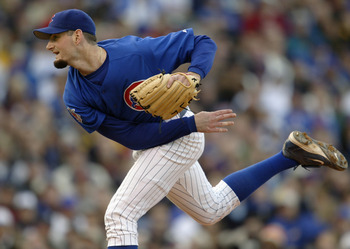 Here's a quick look at some of the more notable moves by the Cubs on
March 27.
The Cubs traded Jose Cueto, Ryan Jorgensen, Julian Tavarez and Dontrelle Willis to the Florida Marlins for Antonio Alfonseca and Matt Clement.
Clement immediately established himself as the No.2 starter behind Kerry Wood in 2002 before becoming an integral part of the Cubs' division winning team in 2003. In both seasons he made 32 starts, pitched more than 200.0 innings and won a combined 26 games.
His final season with Chicago (2004) wasn't as productive on paper, but he posted a career-best ERA+120 while going (9-13, 3.68) in 30 starts and 181.0 innings pitched. Interestingly, according to Clement's WAR score his best season in Chicago was in 2002 (4.2) followed by 2004 (3.5) and finally 2003 (2.6)–perhaps the season he's best remembered for.
Alfonseca, meanwhile, was the poster child of a replacement level player in his two seasons with the Cubs posting a (0.1) WAR in 2002 and a (0.0) WAR in '03. His best asset was durability, making 126 appearances in those two season. But his combined ERA hovered around 5.00. Although, he did manage 3.1 scoreless innings during the 2003 playoffs.
However, I've always felt one of Jim Hendry's biggest mistakes as general manager was failing to add more bullpen help at the 2003 trade deadline. I think, at least partly, that's one reason why Dusty was so keen to stick with his starters longer than he should have. That wasn't to say the bullpen was poor, but it could have used more support than Dave Veres, Juan Cruz, Todd Wellemeyer and the 'Octopus' known as Antonio Alfonseca.
Tavarez made 28 starts for Chicago in 2001 and then bounced around for another eight seasons in the majors—nearly all of it after converting to a reliever.
Willis of course went on to win the 2003 Rookie of the Year Award and finished second in the Cy Young Award in 2005. The wheels began to fall off  in 2007 before his trade to Detroit, where he progressively pitched worse upon arrival. That eventually led to his release and partial stints with Arizona and Cincinnati, among other brief stops, before reuniting with the Cubs this spring.
Unfortunately, Willis suffered shoulder discomfort just seven pitches into his comeback with Chicago and hasn't pitched in a game since—and it's reasonable to believe he may never do so again.
On this date the Texas Rangers purchased from the Cubs slick-fielding shortstop Andres Blanco. He managed to play 53 games for Chicago in '09 but his inability to hit consistently (.252/.303/.341) pushed him down the Cubs' lengthy infield depth chart, one which included Ryan Theriot, Mike Fontenot, Jeff Baker, Blake DeWitt, Chad Tracy and the lovable Bobby Scales. And that didn't include two rising stars named Starlin Castro and Darwin Barney.
Blanco temporarily made headway with the Rangers the following season hitting .277/.330/.349. He played 40 games at second base and 16 games at short. But the arrival of talented shortstop Elvis Andrus, combined with the recovery of an injured Ian Kinsler at second base, put Blanco on the outs in Texas. He's currently playing in the Phillies' system.
The Cubs release Carlos Silva. You can trace this one back to the debacle that was the Milton Bradley experience in 2009. After Bradley alienated his teammates, the fans and finally the entire organization, Hendry somehow convinced the Mariners to trade for him during the offseason. In return Seattle sent cash and their own malcontent in Silva.
The portly right-hander managed a respectable 10 wins in 21 starts with the Cubs, but injuries limited him to just two starts following the All-Star break. Silva struggled the following spring, reportedly clashed with teammates and manager Mike Quade, and was finally given the heave-ho. Despite his relatively young age at the time, 31, Silva has never pitched in the majors again.