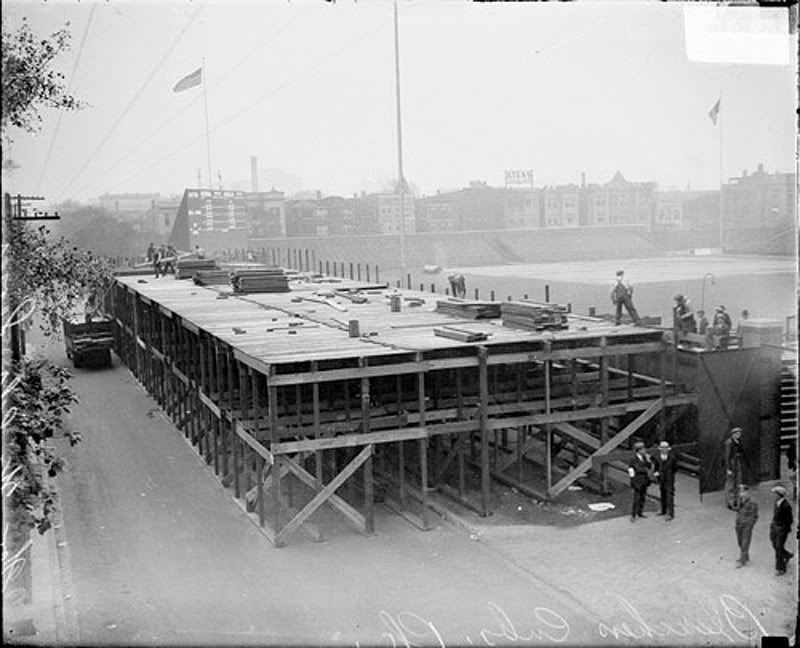 "There are millions of Cubs fans who did not grow up in Chicago. Why? It's Wrigley Field. You see that great old ballpark on television–the ivy on the walls, the people on the rooftops, the bleacher bums, the old stadium–and it's everything you ever dreamed baseball could be." -Randy Hundley, former Cub
In 1925 more renovations took place at Cubs Park (Wrigley Field).
The left field wall was moved back at the request of the Cubs' pitching staff.
This mid-season change created the 'jury box' look, still present to this day.
In 1926 Cubs owner William Wrigley attached his name to the ballpark.
Shortly after he began the construction of upper deck seating.
Wrigley hired the architecture firm of Graham, Anderson, Probst & White.
The same firm which designed the Merchandise Mart and the Wrigley Building.
* Photo: Temporary bleachers over Waveland Ave for the 1929 World Series.