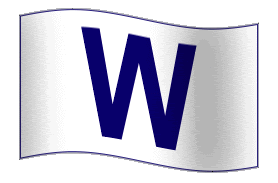 It was fun watching Zambrano pull a role reversal on the D-backs.
And while Z fell a bit short of topping Dan Haren's performance on the mound Monday night, he certainly made up for it with his bat – only missing a triple to complete the cycle.
Without question, Zambrano is the most dangerous hitting pitcher in the game – Micah Owings coming in second.
Yesterday, I was concerned about Soriano feeling some ill affects from being nailed in the noggin on Sunday. That worry left the yard with his three-run blast in the third.
Sori has been locked in from the opening bell. Healthy legs have brought back his power stroke and, the guy isn't flailing at pitches out of the strike zone either.
Plus, the leadoff debate is officially over, which, keeps Alfonso happy in the leadoff spot.
Now, we can only hope the offensive outburst continues Wednesday. Another blow out would go a long way in restoring some confidence in the lineup top to bottom.