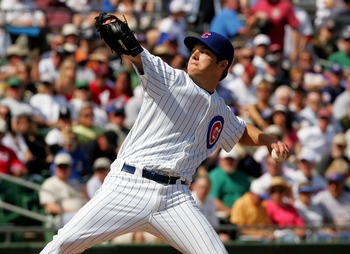 In a very Cub-like move, the Indians have signed former Cub Rich Hill to a minor league deal with an invite to spring training. Hill underwent Tommy John surgery in June of 2011.
Boston, however, deserves credit for saving Hill's once promising career as a starter. The Red Sox lowered his arm angle and transitioned him to a full-time reliever in 2010. *(Hill did pitch some relief innings at Triple-A with St. Louis, but never reached the majors)
During the past three seasons, all with Boston, Hill is (2-0, 1.14 ERA) in 40 games–including 25 games last season after recovering from TJS. 
Despite a solid season with the Cubs in 2007, in which Hill made 32 starts, pitched 195.0 innings and won 11 games, he lost the confidence of Sweet Lou the following season by walking 18 batters in 19.2 innings of his first five starts. The Cubs subsequently optioned Hill to Triple-A Iowa, where he finished out the '08 season, and his career with the Cubs.
Baltimore took a flyer by purchasing Hill from Chicago in Feb. 2009. But the southpaw pitched even worse with the Orioles, winning just three games in 13 starts while posting a 7.80 ERA. Then Boston came calling, made a few alterations and wound up with a decent bullpen arm.
It's a bit surprising Boston let the 32-year-old go, which could now prove a big steal for Cleveland, if, in fact, Hill has fully recovered from his elbow injury. And that's exactly what the Cubs are hoping for with recent Tommy John Club members Scott Baker, Arodys Vizcaino and Chang-yong Lim.