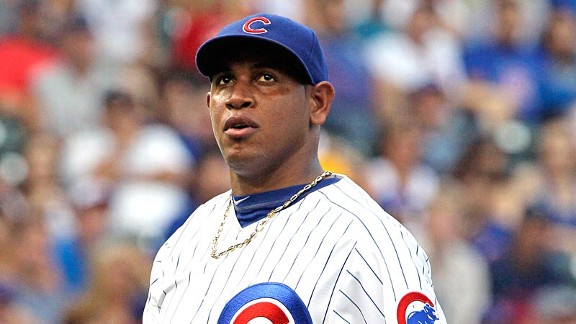 It's been a wild ride for Carlos Marmol with the Cubs. He's gone from minor-league catcher, to reliever, to the best setup man in the National League, to closer and finally, expendable.
After another Jekyll and Hyde year in 2012, the Cubs made no secret they would try and move the closer this winter. He was nearly dealt to the Angels in Nov. for starting pitcher Dan Haren, but the deal fell through with the Cubs concerned over Haren's medicals.
Then, the Winter Meetings came and went with Marmol's name barely making a blip on the trade radar. And when Marmol was accused of domestic violence in the Dominican Republic last month, there was another scare the trade window had shut for the spring, if not longer.
But with spring training at full throttle and Marmol cleared of any wrongdoings in the Dominican, the trade rumors have picked back up according to Bruce Levine of ESPN1000 Chicago.
Levine reports 'several teams' are interested in trading for the 30-year-old, namely the Detroit Tigers who have penciled in Bruce Rondon, a 22-year-old rookie, for their closer's role.
Levine also details Marmol can veto trades to four unspecified West Coast teams, one of which we know is the Angels from the broken Haren deal (Marmol reportedly waived his no-trade right to accept the trade before the Cubs declined the deal). Marmol, however, is said to be willing to waive his no-trade rights to join a contender.
So what can the Cubs expect in return for Marmol? It's generally accepted the Cubs will ask for a younger pitching prospect in return–an attempt to add another cost-controlled piece to the longer-term rebuilding plans.
However, aside from Marmol's 1.52 ERA following the All-Star break last season, the Cubs wouldn't appear to have a ton of leverage. His first half ERA was 5.61 and we also know how wildly inconsistent he's been throwing strikes the past several years.
Even worse, in three of the past five seasons Marmol's save percentage has been below 80-percent–and he led the league in blown saves (10) as recently as 2011. For his career Marmol is 115/140 (82-percent) in save opportunities.
So for all intents and purposes, trading Marmol is more a cost-cutting move by the Cubs with Marmol still owed $9.8 million through 2013.
Meanwhile, the Cubs essentially replaced Marmol with the surprise signing of Japanese pitcher Kyuji Fujikawa, 32, to a 2-year, $9.5 million deal in Dec. In six seasons with the Hanshin Tigers Fujikawa has recorded 202 career saves, including a 1.32 ERA in 2012.
Having roughly $20 million tied up in two closers doesn't make much sense for a rebuilding franchise. And although neither Marmol or Fujikawa are in the Cubs' long-term plans, having Fujikawa for two years gives the organization not only a more reliable closer than Marmol, but also time to find the team's closer of the future.
With all that said, here are my best guesses at where Marmol could land before opening day.
Detroit
For the reasons listed above, and the possibility starter Rick Porcello is available. Jim Leyland has implied Jose Valverde is not an option and there's potentially an outside shot at packaging Alfonso Soriano with Marmol in a trade. That one's a stretch, but Marmol alone would appear a good fit.
Baltimore
They have the young pitching prospects the Cubs want. It's also another outside shot at dealing Soriano with Marmol considering the O's have been searching for a right-handed slugger all offseason.
Cleveland
They're moving fast to compete and haven't been afraid to add payroll this offseason. Closer Chris Perez has declined over the past three seasons and Marmol could be the player to push him for the ninth inning role.
Colorado
The Rockies are all-around bad, and closer Rafael Betancourt will turn 38-years-old at the end of April. He went 31/38 in save chances last season, but how much is left in the tank?
Los Angeles Angels
We know Marmol already accepted to waive his no-trade right to join the Halos. Maybe they'd think of adding him again in what's shaping up as a very tough American League West division.
Milwaukee
Closer John Axford, 30, fell of the wagon badly last season after going 46/48 in saves in 2011. He temporarily lost his job in 2012 while finishing the season
(5-8, 4.67) with nine blown saves in 44 chances (80-percent).
New York (NL)
The Mets don't have much of a bullpen to begin with and they also appear to have lost confidence in closer Frank Francisco. That leaves Bobby Parnell, a reliever with more career blown saves (17) than he has successful saves (14) during his five big-league seasons, to close the door in the ninth inning. 
Oakland
Never afraid to make a deal. Billy Beane is the king of spinning closers into trade deadline gold. His 35-year-old closer, Grant Balfour, has long battled arm troubles and is coming off knee surgery in Feb. However, the A's could potentially be one team on Marmol's no-trade list.
Pittsburgh
The Pirates need any edge they can get to stay in contention for a full season. Jason Grilli, 36, is taking over the closer's role with all of five career-saves under his belt in 10 seasons. 
Texas
The Rangers and Cubs hooked up at last year's non-waiver trade deadline in the Ryan Demspter and Geovany Soto trades. Closer Joe Nathan is still a stud at 38-years-old, and newly acquired reliever Joakim Soria saved 160 games in five seasons with Kansas City. But perhaps Marmol would welcome a setup role on a contender. Not to mention, Soriano would appear a good fit in the Lone Star state as well.