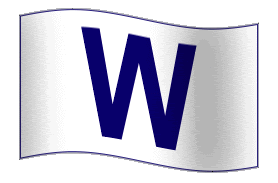 At last, some Cubbie swagger!
We'll all remember the Cubs' three consecutive walk-off wins if they make the postseason.
Had they gone the other way, however, the Cubs would have been in a world of hurt. Instead, they're just 2.5 games back of first place St. Louis.
Another steal sets the table for a walk-off win–Fukudome stealing second base after leading off the 13th with a single.
I'd like to see Lou run his guys more often. There's no reason Theriot, Soriano, and Fukudome shouldn't be on the move after reaching base.
Ever since Soriano's hot start fizzled out and Aramis went down, the Cubs have been without a clutch hitter. It's been the root of their problems offensively.