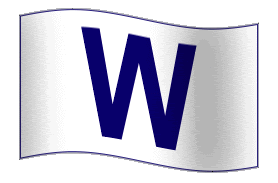 Friday August 15th – Dolphins Stadium
Game (122): Cubs 6 – Marlins 5
Record (75-47) – 1st place NL Central
The skinny:  I could hear the cheers around Wrigleyville echoing through my apartment window before big D. Ward's pinch hit HR fell into the right field seats.
What a huge emotional lift for the Cubs and specifically the team's primary pinch hitter.
Prior to Ward's at-bat, the slugger was swamped in an 0-for-13 slump, and just 4-for-20 coming off the bench all year, a far cry from his .327 pinch-hit average a year ago.
Give Lou credit for sticking with the big man–through thick and thin.
Ward is, after all, a rare catch by pinch hitting standards: professional at-bats, high contact hitter and has some power, too.
No question Ward's game-winning blast immediately rerouted the focus from Zambrano's poor outing to the team's dramatic one-run win.
Although Carlso is winless in his last three starts, I'm without worry. There appears to be nothing wrong with him physically, just the usual lose nuts and bolts upstairs.
I'm simply chalking up Zambrano's outing as a bad day. Besides, Ward's given us reason to celebrate!
W – Gaudin (9-4) – Wood (25)
L – Gregg (6-5)
Notes: Tonight's win marks the Cubs 35th come-from-behind win of the season, that leads MLB.
Ward's PH dong is the 11th of his career.
His last hoe run came July 22nd at Arizona.
DeRosa's 14th HR is a new career-high.