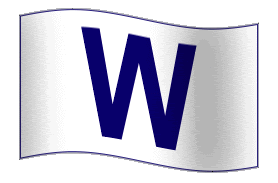 Not once did I hear the name Barry Bonds mentioned during the broadcast. And, I hope we don't hear it tomorrow either. Good for Len and Bob.
Best outing of the year for Dempster. And, he only allows one run if Miles makes a clean exchange on a double play ball in the fifth.
Marmol was his old self again. And, the three straight sliders punching out Renteria were sick!!!
How many home runs for Theriot this season??? I put the over/under at 10. The little man is in a zone and, he's oozing confidence at the plate.