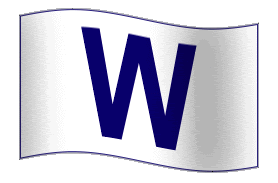 I'm buying a Bobby Scales tee-shirt.
His pinch-hit bomb in the seventh–his first MLB home run–reminded me of Felix Pie's dramatic three-run shot against the Mets on Apr. 21 last year. Although, Pie was sent down less than a month later.
Scales, on the other hand, is off to an impressive start. A five-game hitting streak which includes a home run, triple, three runs scored and a .429 average to boot!
He's making the most of his opportunity and, making it tough on the Cubs to send him back to Iowa. I hope he stays in Chicago all summer.